About the Kennel Unicorn King's
Lisa Klang is my name and have had kennel Unicorn King's since 1992. I started with the Cavalier King Charles Spaniel, a wonderfully sweet and lovely little dog. But then I stumbled across a Affenpinscher and fell SLAP-BANG. 1999, so the first little monkey came in to the house, it was Hjärter Ess Goodness Gracious, a little bitch from kennel Hjärter Ess and Ingrid Ahlström Thorén in Norrköping.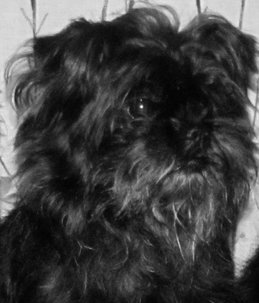 Then it has passed quite a few dogs over the years. It has been among breeds, Setters and German Shepard, but Affenpinscher is the funniest dog I have ever had. Me and my husband Per are living with dogs in Förslöv in the south of Sweden.
Puppies will from time to time. I count myself as a small breeder and it becomes at best a litter a year. But when it is all the more enjoyable. There's nothing so wonderful as puppies!
My goal in breeding is to breed for healthy, happy and breed typical dogs.